About Our Produce
---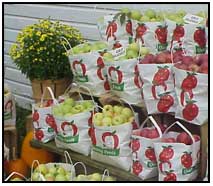 Hartland Orchard takes pride in offering you the freshest, juiciest fruit possible. During the fruit season, you can stop by to purchase fruit that has already been picked; or spend a few hours in a beautiful country setting picking your own fruit. Containers and bags will be provided for you upon entering the orchard.
We specialize in several varieties of cherries, blueberries, peaches and apples, . And we offer homemade cider and Hartland honey !

Hartland Orchard, Inc.

P.O. Box 124, 3064 Hartland Lane

Markham, VA 22643
540.364.2316