History of Hartland Orchard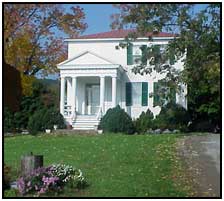 Hartland is an old family working farm and orchard. We are very proud of the hard work and effort that we put into producing top quality fresh fruit at affordable prices for you and your family. We invite you to visit us. Spend a relaxing day in the scenic country side, enjoy nature and pick your own fruit.

The name Hartland came from the Latin word Hart that means deer. In the 1800's and early 1900's there were very few deer, but Hartland was lucky enough to have some. Henry Green was born in the back bedroom in Hartland's main house. A World War II veteran, he translated radio code in an aircraft carrier in the South Pacific. He worked as a chemist until 1950 when his father died, and then he took over the farm.

Henry Green has raised pigs, sheep, chickens, cows, horses, corn, grain, fruit and six children on this farm!

Hartland Orchard is located in the scenic hills near Skyline Drive and the Blue Ridge Mountains. When planning your trip to Hartland Orchard, consider taking advantage of the many other sights and activities in the beautiful surrounding area.